Hot flashes, vaginal dryness, low libido, mid-section weight gain, low bone density, and disturbed sleep are common symptoms of menopause and studies show that compounds found in certain foods can help ease them. These so called compounds are called phytoestrogens, found in foods like soy, flax, oats, hops, barley, wheatgerm, rye, wild yam, chickpeas, kidney beans, sesame seeds, pumpkin seeds, apples, and herbs like Evening Primrose and Red Clover.
How do phytoestrogens work?
Dietary estrogens work by mimicking the hormone's structure. We have estrogen receptors that look to fill up with estrogen which can come from the body, can come from outside sources like chemicals found in preservatives, dyes, and fragrance, can come from hormone replacement therapy, and can come from phytoestrogen foods.
Of course, we want our receptors to fill with as much natural, clean estrogen as possible. Although phytoestrogen binds to our receptors, it does have a weaker effect than the estrogen produced by our body, but still holds health benefits. For women with estrogen-related cancers, it is advised that you speak with your Oncologist and Endocrinologist before adding in any phytoestrogens to your diet.
During menopause as estrogen levels decline, women are at greater risk for osteoporosis. A 2016 study showed that supplementation with a phytoestrogen can probably prevent the reduction of bone mineral density, and maintain a healthy bone structure in menopausal women.
Declining estrogen levels during menopause also affect our internal thermostat. Hot flashes that occur during the night are called night sweats, but they can also occur all day long. A 2014 study reported that phytoestrogens appear to reduce the frequency of hot flashes without any serious side effects.
How can you get more phytoestrogens into your diet?
It's no wonder that phytoestrogens show up on our client's nutrition plans, who list menopause symptoms as something they are experiencing, Flax oil, rye bread, oats, soy milk, pumpkin seeds, and peas are a few that we see in rotation often. If you want to experiment with using food as medicine to help reduce the severity of common menopause symptoms, here are some of our favourite phytoestrogen-inclusive recipes from around the web.
Purple Sweet Potato Pie with walnut crust is packed with all the goodness for hormones, skin, and immune system support.
Cinnamon Flax Pudding Parfait can be put on your weekly meal prep plan. Make several at once, top with different berries, and refrigerate for a few days.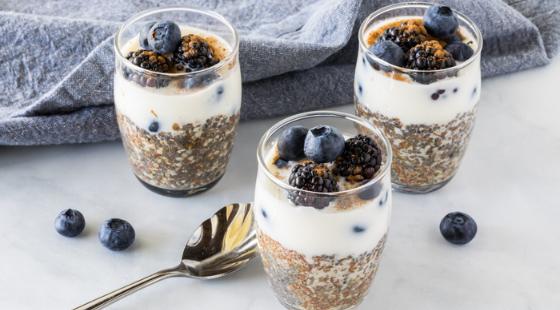 Sweet Potato Brownies with Peanut Butter Swirl make a great dessert or breakfast
Savoury Phytoestrogen Bread couldn't be more healthy and versatile. Toast it and top it with veggies, creamy avocado, salmon, or dip it in homemade tomato soup.
---